Live Streaming moments that have gone too far
Live streaming appeals to streamers and viewers alike for its ability to satisfy many different needs. Watching something live through a screen is the next best thing to being there in person. Viewers become immersed in whatever events are occurring and feel as though they are interacting — and even socialising — with the people and environments being broadcast. Streamers, on the other hand, are motivated to live stream their points of view and day to day activities in order to develop their personal brand.
From the homes of social media influencers to behind the scenes in global corporations, the culture of live streaming has become a core element of carrying out our screen lives. Sometimes, however, live streaming can go horribly wrong…
YouTube and Notre-Dame
On Monday 15th April 2019 the world watched in shock and horror as the beautiful Cathédrale Notre-Dame de Paris was engulfed in flames. Within minutes of the flames taking hold of this medieval masterpiece, several international news and media outlets began to livestream coverage of the event on YouTube, but the platform seemed to be undergoing a bit of a meltdown itself.
YouTube began flagging several livestreams of the fire as potential sources of misinformation, before linking articles about the 9/11 attacks in "information panels" that would randomly pop up during the livestreams.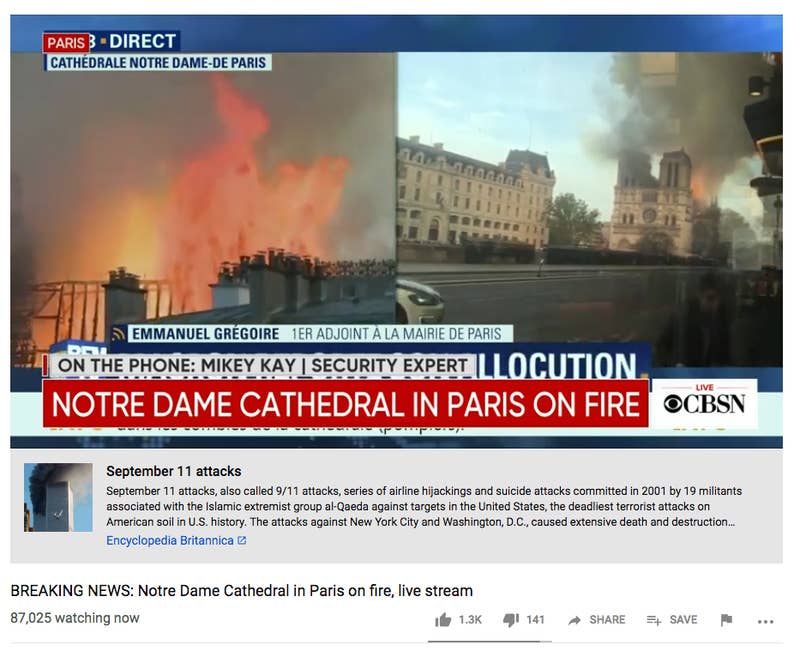 BuzzFeed News were among the first to notice that something was wrong, finding at least three livestreams of Notre Dame that included the 9/11 disclaimer. Although the disclaimers were eventually removed, Twitter was already abuzz with discussions about the content giant's major facepalm moment. It transpired that one of the platform's algorithms that was supposed to assist in the battle against widespread misinformation was to blame for the mistake — quite ironic really!
At home with the Petersons
Internationally-renowned Clinical Psychologist Jordan Peterson holds a controversial and divisive place in contemporary culture. He may be the epitome of professionalism when it comes to formal interviews and public appearances, but his 2018 livestreaming mishap proved that he is just as susceptible as the rest of us when it comes to technology errors.
On 29th August last year, professor Peterson surprised his YouTube followers with a random and unannounced livestream. His fans settled down to hear whatever wisdom he had to depart, but were left bemused when their guru ignored the camera and instead started discussing personal matters with his wife. A few minutes in, Peterson finally looked down the lens and realised he was accidentally livestreaming. Unfazed, he quickly turned the stream off and deleted the footage from his channel. Luckily, some enterprising soul captured the footage and re-uploaded this "Uh oh!" moment for the world to relive.
Facebook goes too far
The Christchurch Mosque shootings, which were carried out in two different places in the suburbs of Christchurch, New Zealand on Friday 15th March 2019, were some of the most shocking terrorist attacks to happen this year. International news outlets were quick to pick up the story and kept the world wide web as updated as they could, but some individuals using the social media platform Facebook, went too far in their quest to share information.
An anonymous user actually started livestreaming the aftermath of the attack on Facebook, generating 200 views during the stream and a further 4000 later on. As if that wasn't shocking enough, the stream itself wasn't reported until 12 minutes after it had ended. According to the platform, approximately 1.5 million videos about the attack were removed within the first 24 hours following the events. Although the majority of them were blocked and deleted immediately, around 300,000 of the videos could still be viewed within that time period. As for why the livestream wasn't immediately stopped, a closed-door briefing at the U.S. House Committee on Homeland Security later that same month revealed there was "not enough gore" for the platform's algorithm to detect.
South Korean website
Four people were arrested on suspicion of secretly taking videos of about 1,600 guests in hotel rooms and posting or streaming them on the internet. The Korean National Police Agency said mini spy cameras were set up in TV set-top boxes, hair dryer cradles or electrical outlets in hotels in central and southeastern South Korea.
Speaking to the BBC, Korean police said the men set up a 1-millimeter lens cameras last August in 30 separate hotels across 10 South Korean cities. A police statement accused the men of earning about 7 million won ($6,210) in total by posting or livestreaming the video on an overseas-based internet site between last November and early March.
One of the suspects allegedly installed the cameras after entering the hotels as a guest. The other was accused of launching and managing the now-shuttered website. The other two were allegedly involved in buying the spy cameras or funding the internet site's operation, according to police.
The men reportedly posted 803 videos and evaded the law by basing the website server overseas, the BBC reported.
Police said they are the first people arrested in South Korea for allegedly livestreaming the private lives of hotel guests via an overseas-based website.
The illicit distribution of videos taken by hidden cameras is a serious social problem in South Korea. Thousands of women joined rallies in Seoul several times last year, demanding stronger government measures against the spread of such videos.
The country saw more than 6,000 cases reported in 2017, the BBC reported. More than 5,400 people were arrested for spy camera related crimes in 2017, but fewer than 2 percent were sent to jail.
Twitter gets washed out at Wimbledon
Even tennis fans that knew about Twitter's live stream from Wimbledon likely had difficulty finding footage of the annual Grand Slam event. The live feed wasn't promoted on Twitter's main page, and it was nowhere to be found in its trending topics or "Moments."
Wimbledon with little fanfare and no surprises.
The live stream that began on the ninth day of Wimbledon competition appeared at the top of a dedicated Twitter page next to a scrolling list of Wimbledon-related tweets. The HD video was clearly identified as a live stream, "brought to you by" ESPN and Wimbledon.
Finding that live stream, however, was a challenge. Twitter hosts a lot of content, but too much of the information gets buried and is never seen by the users most likely to want to view it. Live sports presents the company with an opportunity to elevate the most exciting events in real time, but Twitter mostly failed to impress at Wimbledon. Interested users still had to hunt down the media they wanted to watch, for example, and finding it wasn't easy.
"This live stream is an extremely early and incomplete test experience, and we'll be making lots of improvements before we launch it in its final form."
Cover image: Shutterstock.com
More articles on this topic